Alumni
To assist you with your ongoing career development, the University of Mississippi Career Center and the Alumni Association have partnered to expand the career services offered to members of the Ole Miss community. We invite you to use these services, so please bookmark this site and visit frequently, keeping an eye out for updated services while your career search is under way!
Also, make sure to visit our Alumni Association's website to stay updated on events and to get involved!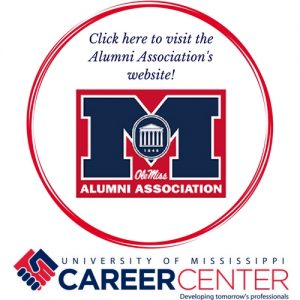 Services:
Handshake
As a graduate of the University of Mississippi, you have access to our online database for job postings and Career Center events. If you have recently graduated, you simply need to sign in with your WebID and the system will send you an e-mail to your go.olemiss.edu account to set up a password. If it has been over a year since you graduated, you can simply create a new account. We will immediately verify your account. If we need additional information, we will reach out to you!
On Handshake, you can easily apply for full-time opportunities with employers who are specifically recruiting UM students and alumni. You can log in/create your Handshake account by clicking here!
Career Assessments
Career goals and measurements for success vary dramatically, and with that in mind we want to help you identity the career path that is right for you. The links below allow you to complete free online career assessments that will help you match your personality and skill sets with the personalities and skill sets prevalent in popular industries.
Links
The Career Key – Free 10-minute assessment
Testing Room – Free 10-minute assessment
The Keirsey Temperament Sorter – Free online personality test
Industry Specific Information
General Job Search Sites
The links below represent job search sites which have been researched and recommended by the Ole Miss Career Center staff. In addition to the ability to design custom job searches, many of these sites allow you to develop online profiles, post resumes and create job screens that will provide automated notifications when new posting are available.
 General Search Engine Links
Industry Specific Search Engines
Company Research