Alumni
To assist you with your ongoing career development, the University of Mississippi Career Center and the Alumni Association have partnered to expand the career services offered to members of the Ole Miss community. We invite you to use these services, so please bookmark this site and visit frequently, keeping an eye out for updated services while your career search is under way!
Also, make sure to visit our Alumni Association's website to stay updated on events and to get involved!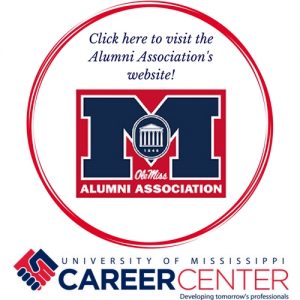 Services:
Handshake
As a graduate of the University of Mississippi, you have access to our online database for job postings and Career Center events. If you have recently graduated, you simply need to sign in with your WebID and the system will send you an e-mail to your go.olemiss.edu account to set up a password. If it has been over a year since you graduated, you can simply create a new account. We will immediately verify your account. If we need additional information, we will reach out to you!
On Handshake, you can easily apply for full-time opportunities with employers who are specifically recruiting UM students and alumni. You can log in/create your Handshake account by clicking here!
Career Assessments
Paid Assessments (Meeting with a counselor beforehand is required.)
Free Assessments
Career goals and measurements for success vary dramatically, and with that in mind we want to help you identity the career path that is right for you. The links below allow you to complete free online career assessments that will help you match your personality and skill sets with the personalities and skill sets prevalent in popular industries.
The SuperStrong is designed to identify students' interests and determine how those interests match up with those of individuals in a multitude of different occupations and majors. The SuperStrong Assessment is given through the VitaNavis platform that is designed as a life-long career and education decision support system for students. The VitaNavis platform has the functionality to integrate various data sets to create informative student experiences that help students understand themselves and their many options in life. Read more about how discovering your interests can help link you to career paths in the article What Makes Interests So Interesting?
Are you interested in taking this assessment through the Career Center?
All you need to do is follow the link below, create your free account, and complete the assessment to discover more about your potential major and career paths!
Follow this link to get started:
Career Center SuperStrong Assessment
Access Code: olemiss-career
Other Free Assessment Links
The Career Key – Free 10-minute assessment
The Keirsey Temperament Sorter – Free online personality test
Resume and Cover Letter Development
Strong resumes, cover letters and thank-you notes are essential elements in any great job search. Stand-out job correspondence can help you "get your foot in the door," while bad resumes and letters will get tossed in the trash, along with your hopes of landing a good job.
Here's how we can help:
Download our helpful handouts & PowerPoint presentations
Resumes
Curricula Vitae
Cover Letters
Thank-you Letters
Recommendation Request Letter
Other Helpful Handouts/Videos
Interviewing
Big Interview
Big Interview is an interactive online system that combines training AND practice to help improve your interview technique and build your confidence.
You have at your disposal a variety of tools including:
Challenging, virtual mock interviews for all experience levels and dozens of industries
A database of thousands of interview questions with tips on how to answer them
The ability to rate and share your interview answers for feedback
A comprehensive video training curriculum covering all aspects of landing a job
A step-by-step interview Answer Builder for crafting answers to behavioral questions
Information on how to access Big Interview for Alumni:
STEP 1: Go to https://olemissalumni.biginterview.com/ and click "Register"
STEP 2: Enter the Organization Code: CAREERNOW
STEP 2: Complete the registration process
STEP 3: You'll then receive a confirmation email at the email address that you provided. Click "Verify" in the email, and you'll be able to start using Big Interview for Alumni.
Job Searching
Industry-Specific Information
Accounting

Arts and Entertainment

Banking & Finance

Chemistry

Economics


Education


Engineering

Health and Fitness/Leisure Management

Health Care

Hospitality

Insurance/Risk Management


IT Jobs

Journalism

Pharmacy and Pharmaceutical Sales

Public Policy

Social and Psychological Services
General Job Search Sites
The links below represent job search sites which have been researched and recommended by the Ole Miss Career Center staff. In addition to the ability to design custom job searches, many of these sites allow you to develop online profiles, post resumes and create job screens that will provide automated notifications when new posting are available.
 General Search Engine Links
Company Research
Additional Resources